LVGEM (China) Won the "Sustainable Development Award" for Its ESG-based Long-term Investment Value
Author: CHINA LVGEM
LVGEM (China) Real Estate Investment Company (0095.HK) has recently won the "Sustainable Development Award" of GuruClub Greater China Best Listed Company Awards at the 4th GuruClub held by Gelonghui (格隆匯). According to the introduction, the award is based on the comprehensive consideration of the listed companies' performance in environmental, social, and corporate governance, including energy conservation and environmental protection, employee growth, customer relationship maintenance, and protection of the rights and interests of interested parties, and the final results of winners are determined through quantitative data analysis and assessment by expert panel.
LVGEM (China) received the "Sustainable Development Award" for its green building concept and outstanding performance in the Baishizhou Major Urban Renewal Project among the listed companies.
 1· Actively Innovating Green Low-carbon Development Model Based on Real Estate
The real estate construction segment has always been the major carbon emitter and is characterized by large total emissions and high intensity. At the 2022 World Economic Forum Annual Meeting (Davos Forum), Jones Lang LaSalle released the report "Decarbonizing Cities and Real Estate", which discovered through a study of 32 core cities around the world that real estate-related carbon emissions are estimated to account for 60% of overall carbon emissions. Consequently, promoting net-zero carbon in cities through emission reduction from buildings has become a primary goal of major cities around the world.
LVGEM (China)'s remarkably important efforts and achievements in controlling and reducing carbon emissions as a real estate enterprise in mainland China are one of the reasons for receiving the award.
In 2019, LVGEM (China) extended its business of commercial real estate to Hong Kong, and acquired LVGEM NEO as its first step to develop the Hong Kong market.
As a super Grade A commercial building with a full sea view, the project is located in the heart of Hong Kong's second CBD, Kowloon East Financial Street. At the same time, Kowloon East is also a pilot area for Hong Kong evolving into a smart city
Adhering to the green office concept, the LVGEM NEO is committed to meeting the highest standard of sustainable development. With its low-carbon and environmental protection-related design, and new intelligent office-ecology, the LVGEM NEO has been awarded the double pre-certification of LEED Platinum in the United States and BEAM PLUS Gold in Hong Kong Green Building.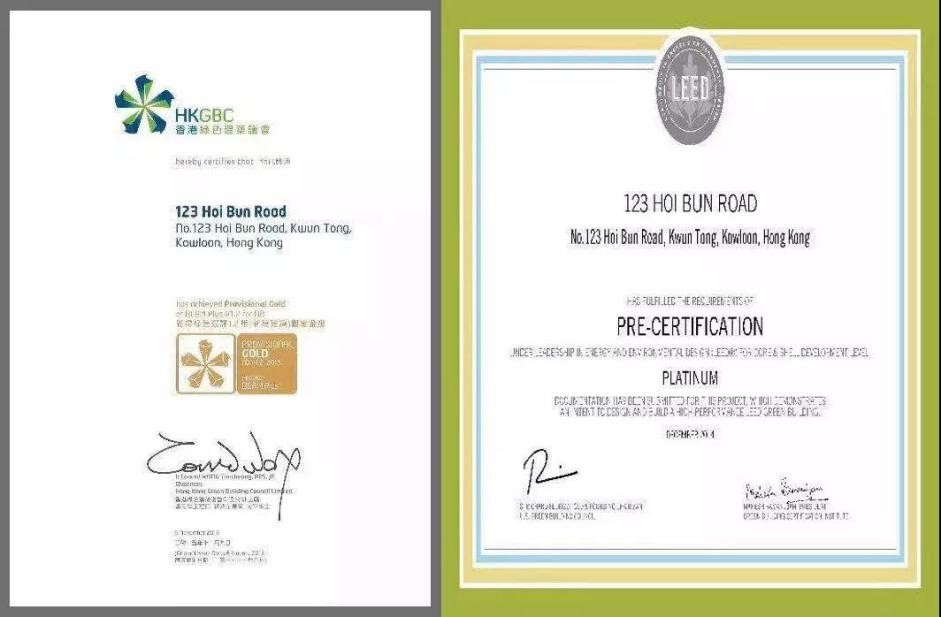 In addition, according to relevant statistics, thanks to the green design, the Hong Kong LVGEM NEO reduces CO2 emissions by approximately 2.53 tons, saves HK$4.5 million in electricity and 6.83 million liters of water per year compared with the energy consumption of local commercial buildings of the same volume in Hong Kong. Meanwhile, the eight technological function systems applied in the building, including double-loop power supply system and building automation system, also effectively enhance the efficiency of intelligent office and management. Hong Kong LVGEM NEO serves as an important model during the course of LVGEM(China)'s exploration of green and sustainable development.
As a pillar economy, the real estate industry makes a clear contribution to regional economic development, while real estate enterprises take the initiative to improve and optimize the planning, design, construction and the use of buildings to reduce carbon emissions, which will achieve the dual effect of "economic growth" and "environmental protection" to realize the prospect of high-quality development.
In addition, LVGEM (China)'s projects in mainland China remain focused on energy conservation and emission reduction to empower social and environmental values. In its interim results report, LVGEM (China) disclosed that how Shenzhen NEO Building was awarded the honorary title of "Shenzhen Water-Saving Enterprise" for its outstanding performance in water conservation in the first half of the year, which shows that the Company has incorporated the concept of sustainable development into the goals of all projects. The Company is also committed to creating green buildings with low energy consumption, assuming social responsibility, and has obtained encouraging successes.
2.Technology Empowering Real Estate, and Building Zero-carbon Areas in Partnership with Huawei, China Unicom and Other Technology Giants
LVGEM (China) put forward the strategy of "building a brand-new smart city" in the early years. With technology as the ancillary support, LVGEM actively empowers real estate to lead a modern low-carbon lifestyle through technological measures, further reducing carbon emissions and creating a modern zero-carbon community.
LVGEM (China) entered into a strategic cooperation agreement on smart city with Huawei, China Unicom and other technology giants. Both parties will take the Baishizhou project as a blueprint to jointly build an international benchmark smart city, integrate smart technology into high-end residential life, and help upgrade the living standards of urban residents. Up to now, focusing on the construction target of Baishizhou Smart City, the Company has completed the top-level design of Baishizhou Smart City to build a smart all-scenario system. The detailed design of a number of construction contents with smart "operation + management + service" has been gradually in place, such as smart parking system, smart lighting system, etc., which will greatly improve the efficiency of regional operation and management, and achieve energy conservation and emission reduction, and thus strongly promote the construction of green new city to realize the vision of smart city.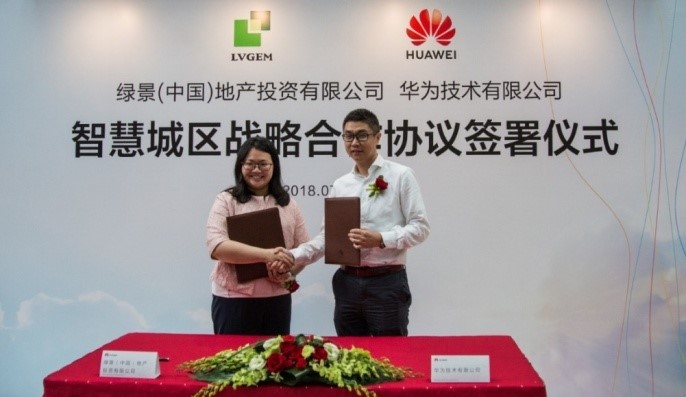 As the largest urban village in Shenzhen, Baishizhou is also expected to become the largest case of smart city in Shenzhen under LVGEM's management, which will be of great significance to the renovation of Baishi Zhou and Shenzhen as a whole. Based on this, while vigorously promoting the construction and development of smart cities, LVGEM helps urban renewal to a new level, brings reference and demonstration effects to the industry, establishes the LVGEM urban renewal brand, and drives the whole real estate industry to a deeper, high-quality change.
3.Being Enthusiastic in Public Welfare, and Pursuing the Positive Cycle of Business Value and Social Value
As an enterprise that maintains its enthusiasm for promoting sustainable development and ESG development, LVGEM (China) has not only launched a series of strategic arrangements and specific project practices centering on its main business, but also has been adhering to the concept of business for good, balancing business value and social value, and has made continuous efforts and gained positive achievements in the aspects of environment, social responsibility and corporate governance, so as to continuously strengthen its internal driving force and build a positive cycle of business ecology.
On the one hand, the Company devotes itself to public welfare and practices the concept of sustainable development for the benefit of the public. Over the years, the Company has been actively involved in public welfare actions around infrastructure construction, environmental protection, public health, and disaster relief and education assistance through projects and services for the benefit of the people, and has received several awards from authoritative media or institutions. The Company was awarded the "Most Heartwarming Company during the 2022 Epidemic in China" by CHIRC, China's leading comprehensive employer branding platform, for its outstanding efforts in pandemic prevention this year.
In terms of environmental protection, the Company also actively participates in ecological protection and supports environmental protection public welfare organizations, such as donating to the SEE to improve and restore the ecological environment in the Alxa League of Inner Mongolia and to slow down or curb the occurrence of sand and dust storms.
All in all, the "Sustainable Company Award" not only reflects the milestones achieved in ESG construction but also fully demonstrates the Company's commitment to sustainable management as a strategic development strategy and the path of sustainable development, which also shows its future development advantages and growth space in a more multi-dimensional and comprehensive way, and helps LVGEM (China) to move forward steadily.
4.Conclusion:
LVGEM (China) has been recognized by the capital market again. The sector shock in real estate industry has resulted in the collapse of real estate enterprises and a significant decline in corporate governance performance, while the surviving real estate enterprises have demonstrated the effectiveness of ESG management after the crisis. According to the latest research report by First Shanghai, based on the gradual transformation of LVGEM (China)'s old reform projects such as Baishizhou, as the Company's scale and profitability will make a qualitative leap, LVGEM China will be granted a "Buy" rating, with a target price of HK$2.10. Compared with the Company's current price of only HK$1.42, the target price has nearly 50% potential.
Along with the policy turnaround and the overall rebound of the market and industry, LVGEM (China) aims to continuously improve its ESG construction, enhance product innovation and competitiveness, drive long-term development and continuously broaden the va
Related News